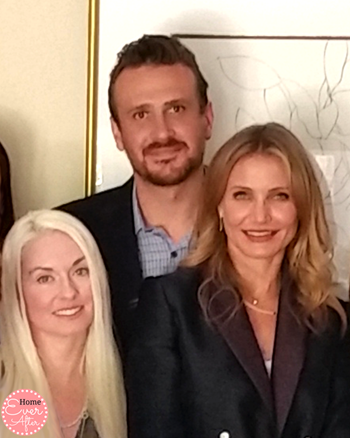 Being a screenwriter is a passion that only other artists can understand, so naturally we love to hear about the process other writers go through during the creation of our ultimate progeny, the film.
Here's a portion of my interview with Jason Segel on writing. (You can read my interview about the Sex Tape movie with Jason and Cameron Diaz here.)
I was lucky enough to snag a few minutes with Jason Segel last week at the press junket for his new film, Sex Tape. I wanted most to ask him about screenwriting and discovered that we both come up with our ideas in the shower (I knew I wasn't the only one).
Jason Segel on Scripts and Writing
Danelle: About the script- I know you wrote a lot of this script and on the last couple movies that you've done. Have you thought about going into just doing your own screenplays?
Jason: I'm writing a couple things now. What happens for me, writing-wise, this is the first thing that I've written that wasn't an original idea. It came from Kate Angelo's brilliant first script.
But what happens to me is I'm in the shower and I have this idea of a premise, you know? And then if I'm finally just like, "F***, it's a good idea" but I'm kind of bummed about it because writing is so much work. You're going to be stuck with it for 4 years by the time the movie is done.
So for me it really comes down to thinking of something that I can not get out of my mind to the point that it is bothering me, because I know going in that it's going to be something that I'm committed to for a really long time.
Unlike acting, where you get a script and you sign on and you do your prep and you go do it and say goodbye, you write for a really long time. You battle through these periods of being bored by your own idea because you've been writing it for a year and a half. You just want a break from it, you hate it, you think it's so dumb and you've probably thought of a new idea that you think is so much better than that idea.
So it takes some real discipline but I really love it. There's a real – like nothing I've ever experienced – there's a really cool alchemy to thinking of an idea in the shower, and then a few years later, sitting in a movie theater and seeing it. It's one of the coolest feelings I've ever had – ever, you know what I mean?
—
I sure do, Jason. Thanks to Sony and Columbia Pictures for the time to meet with Jason Segel.